Kitchens are usually the hardest working room in the home. They are not only where food is prepared or served multiple times per day, but they are also often where homework, chores, and general gathering happens. 
I'm frequently asked about kitchen decluttering – from how to keep counters clear and what to do when every drawer becomes a junk drawer.
Here are five rules for organizing a kitchen and keeping on top of clutter.
Caroline Roberts is a KonMari consultant and founder of the home organization company The Simplified Island. She and her team help clients declutter their belongings. Then they find the best places for your items so that their family members can find things and put them away. She is also a contributing expert at Homes & Gardens.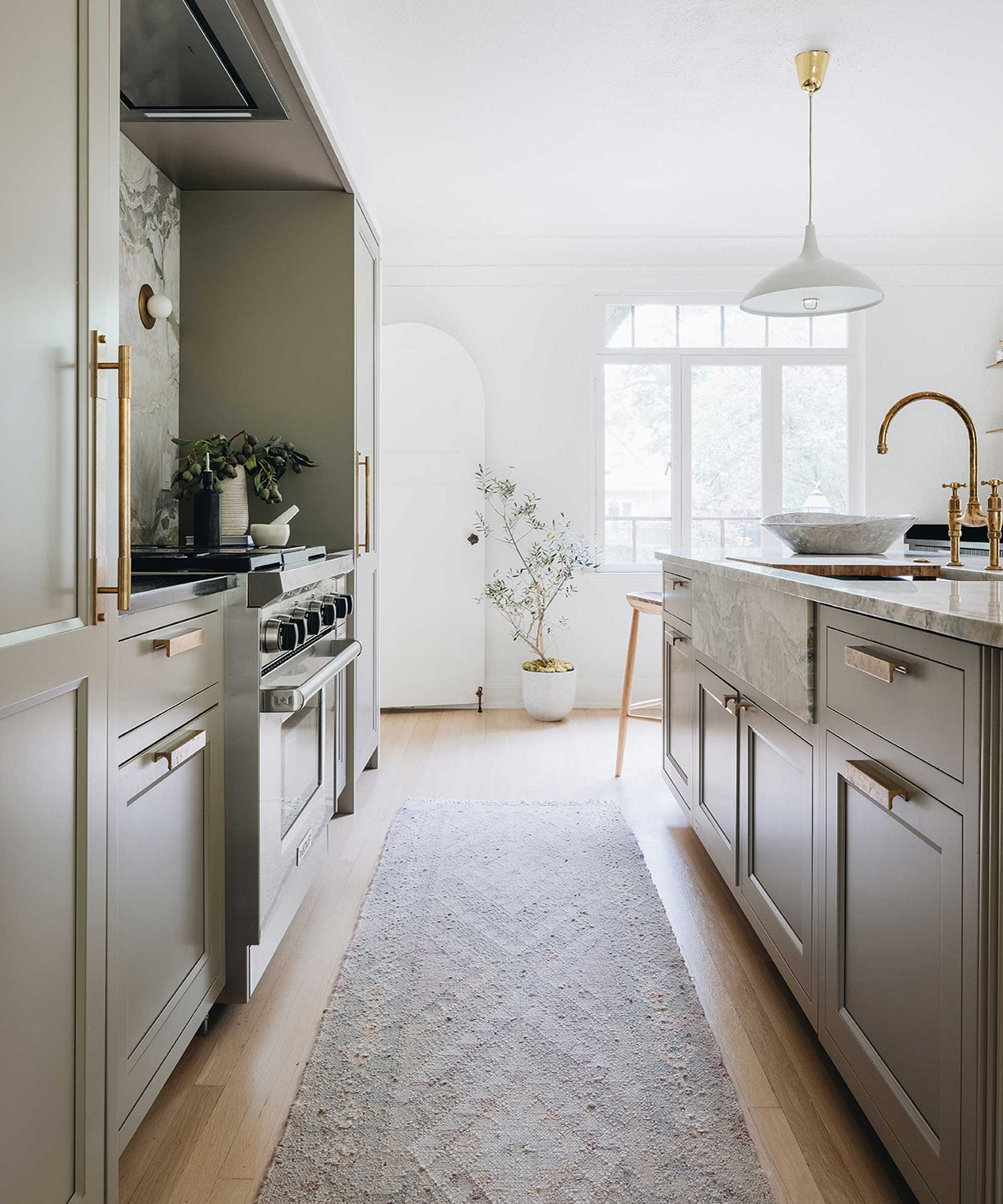 1. Give everything a 'home'
The first rule is home organization 101, so you've probably heard it before, but it's so foundational that it bears repeating. Everything in your kitchen should have a home where the item stays when not in use. Not only is this important so that everyone can find things, but it helps you gauge when you have accumulated too much and need to clean out a bit.
To find a home for your kitchen items, divide your kitchen into work zones and store them as close to their related zone as possible. The most-used things get the best storage spots, and the least-used items (if not donated) can be stored in awkward cabinets, top shelves, or even a spare bedroom closet. Expandable drawer dividers, available at The Container Store, make kitchen drawers more functional and make individual items easy to find.
If your kitchen hosts other activities such as homework, paying bills, crafts, or family games, be sure those items have a designated home in the kitchen or nearby to keep on top of paper clutter and quieten visual noise.
2. Borrow before you buy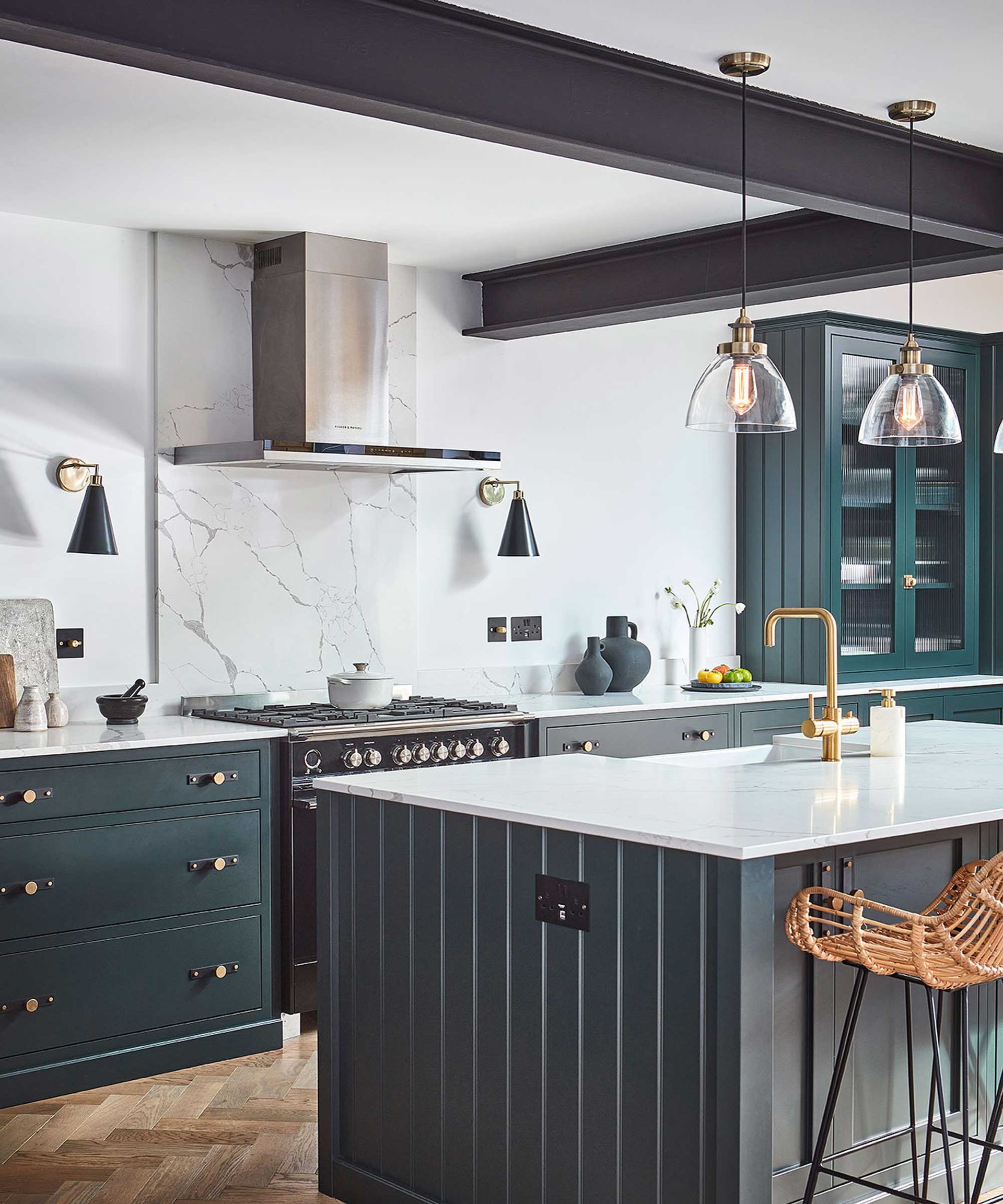 To keep kitchen clutter at bay, consider what you can borrow from a friend rather than buy it yourself. This comes in handy when entertaining if you need serving pieces or large cookware that you would rarely use outside of this special occasion.  
For example, when a friend and I were both in the baby/wedding shower season of life, it felt like we were always hosting some type of shower. We each had a set of glass pedestals that stacked to make a beautiful 3-tier serving piece. One was all we needed for smaller functions, but we borrowed from the other for larger occasions. It was wonderful not having to store two of them, and we loved knowing we could have a matching pair easily.
Outside of serving pieces, think about borrowing a small appliance before purchasing it. It seems there is a new must-have appliance every couple of years, and while an air fryer may be a lifesaver for one person, you may find that it's more trouble than it's worth. See if you can test it before falling for the hype.
While this last tip isn't precisely borrowing, it's pretty close. Whether you are trying to keep a small kitchen clutter-free or are lucky enough to have a large space, remember to shop at charity second-hand stores for things you need for a one-time occasion, then donate them back when you are done! 
3. Refill pantry canisters immediately (or don't use them)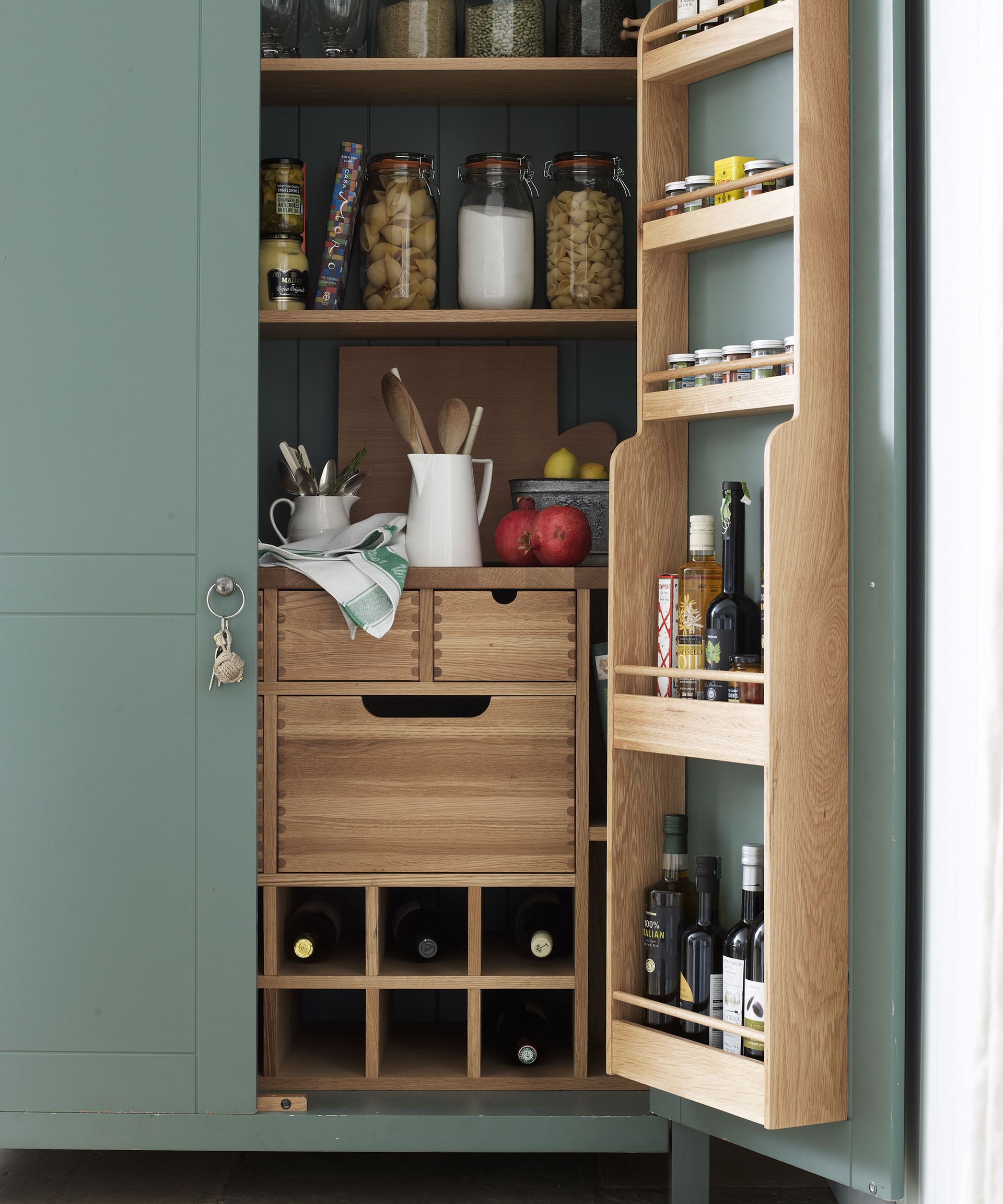 There is one thing about canisters that is not said enough: not everyone should use them. Yes, canisters make a cabinet or pantry look beautiful – no doubt about that. But remember, canisters are also something else in your home to maintain. I've organized countless kitchens and found empty canisters with the new product being used and sitting right beside them. Before you buy canisters to hold your cereal, flour, snacks, etc., think long and hard about whether you will maintain them.
If you love canisters for functional or aesthetic reasons, refill them as quickly as possible. Modular canister sets that stack, at The Container Store, will take up less space than tapered options.
4. Reduce single-use gadgets
I love browsing fancy kitchen stores full of gadgets, cookware, the best chef's knives, and gourmet spreads. They always inspire me to try a new recipe or cooking technique, and I used to buy at least one new gadget at each visit. I always thought the latest tool would surely be the key to unlocking chef-level talent, but I usually just ended up with crowded kitchen drawers and the same cooking skills.
Once we downsized, single-use gadgets were out of the question (farewell, pineapple corer), so now I look at them differently and see how much I can do with as few tools as possible. It's become a little game and doesn't feel like deprivation.
What single-use gadgets are taking up more space than they are worth? If it's small, and you like it, keep it! But if it's bulky, see how long you can go without it. If you don't miss it, donate it, and consider investing in some of the best appliances for small kitchens instead.
5. Know your cooking and entertaining style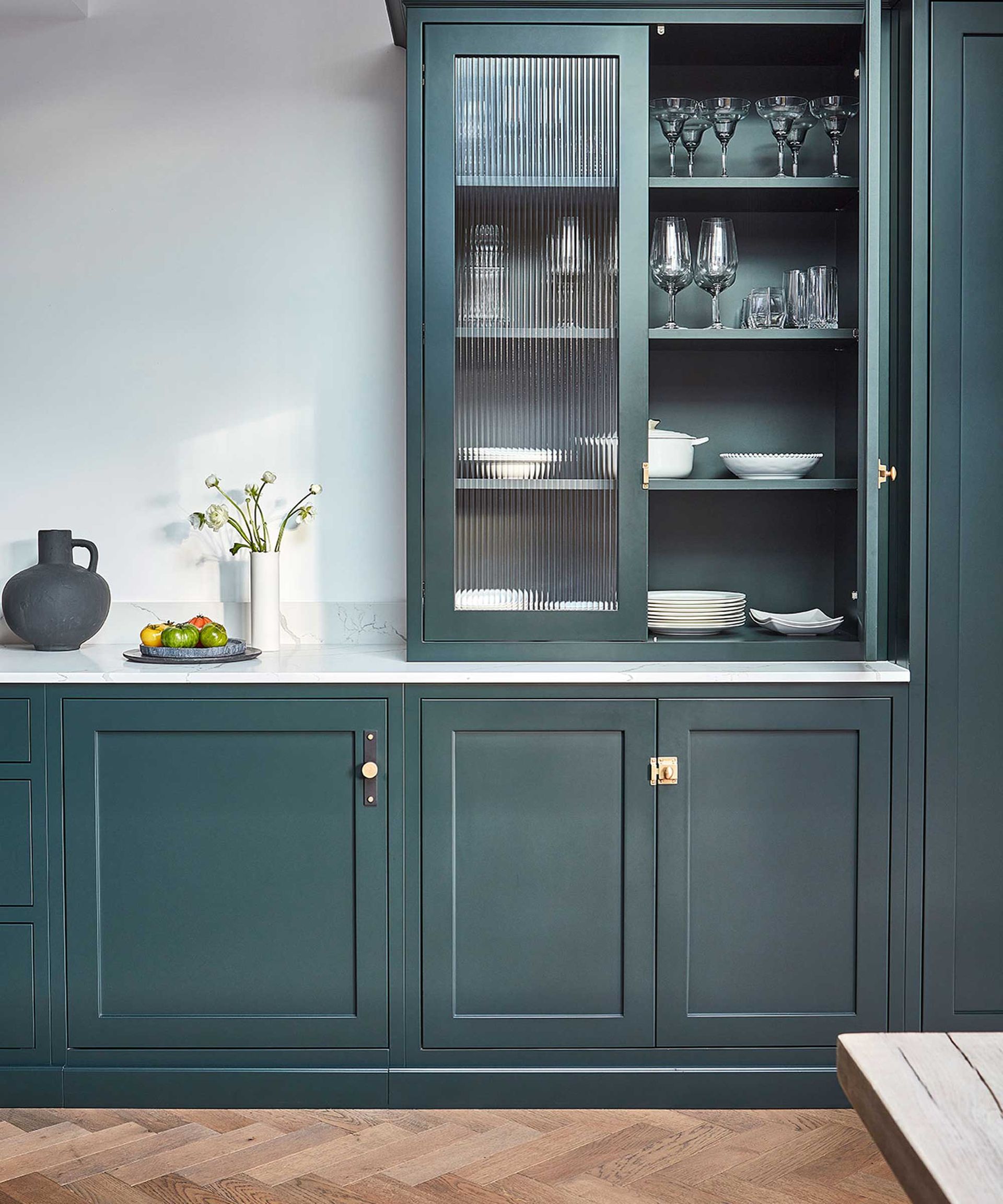 This rule is all about getting honest with yourself. Just like I thought the 'right' gadget would make me a better cook, I also thought I needed 12-place settings of fine China, silver, and crystal to entertain properly. The truth is that as long as your guests feel welcome, you can feed and entertain them in any way you like.
There is also no right or wrong cooking style. If you love intricate recipes with lots of ingredients and steps, that is amazing. It's also great to keep things basic because being in the kitchen isn't your thing.
The most important thing is to take the time to make sure your kitchen is set up in a way to support how you want to use it, not how Martha Stewart, Gordon Ramsey, or even your mother would use it.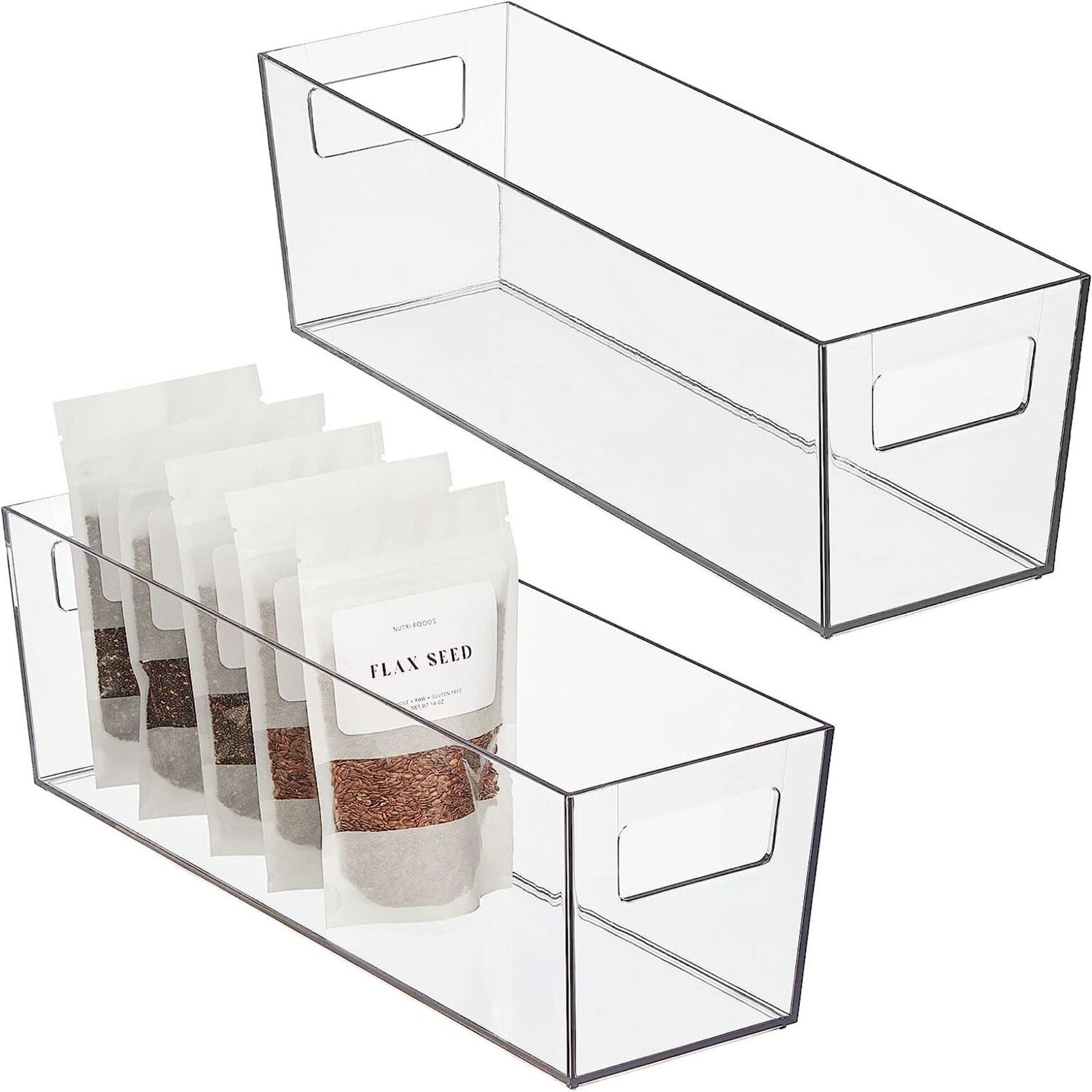 Slim Plastic Bins with Handles
This two-pack of slim plastic bin works well in a refrigerator or pantry.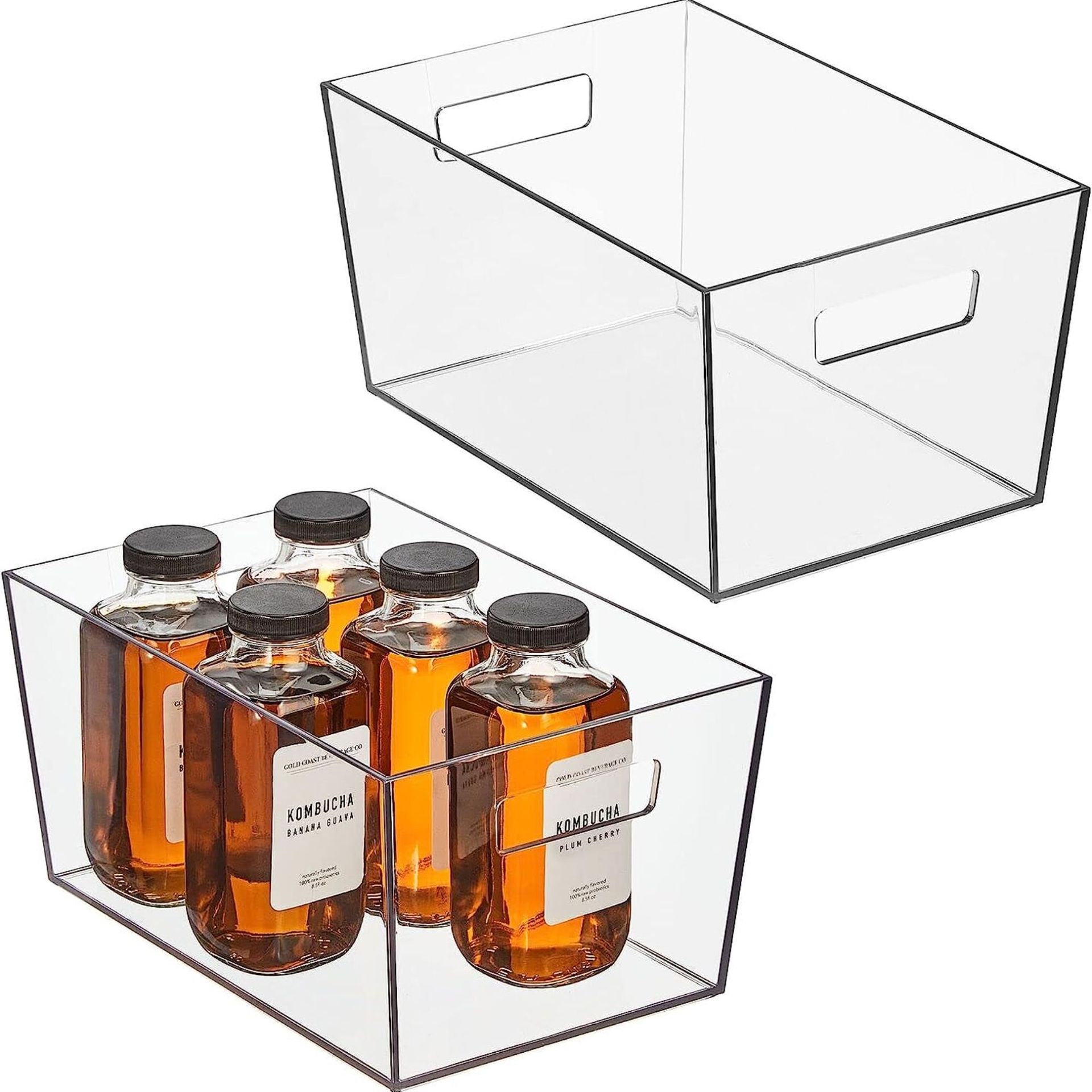 Wide Plastic Bins with Handles
For more awkward storage of bread and bottles, these two wide plastic bins suit almost any space. 
FAQs
Why is my kitchen always cluttered?
If your kitchen always feels cluttered, it's likely that the space inside your cabinets could be used more efficiently. Declutter individual cabinets little and often, to slowly free up space, and then add pull-out drawers or stackable containers. This will create more space, meaning you are less likely to leave things out on the flat surfaces of your kitchen. 
Aside from inviting friends around more frequently to motivate us to get rid of the excess mess on kitchen counters, piles of paper, and dishes in the sink, labeling things and limiting home decor can also reduce kitchen clutter.
How do you organize a kitchen for maximum efficiency?
First, thoroughly declutter, removing anything that isn't earning its place. This may mean moving less frequently used appliances to a closet down the hall. Next, take everything you are keeping out of the cabinet (taking the opportunity to clean down areas that are usually hard to reach) and slowly place things back. When putting items back, think about how you use the kitchen and what zones you can create to make daily activities more efficient, from making a morning coffee to an evening glass of wine. 
Try rearranging things in different drawers and cabinets so everything is close to hand when you are completing specific tasks. Can you store chopping boards near the knives, and both of those nearer to the refrigerator or wherever you store your produce? 
Making a highly functional and efficient kitchen requires you to slow down and reassess how you and your family use the space, but it's a valuable exercise that will make preparing food and drink a little easier.
---
That wraps up the five rules for keeping a clutter-free kitchen. We all have to feed ourselves, so be sure your kitchen is set up in a way that serves how you like to prepare food and entertain. When clearing things out, you can make the decision-making process much easier with a pre-made kitchen decluttering checklist.