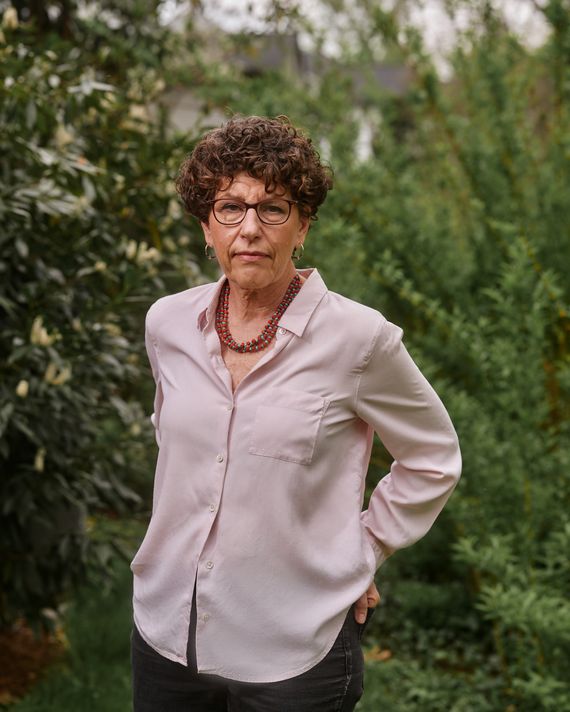 Photo: Jared Soares/Jared Soares
Linda Greer is famous among fashion insiders as the industry's go-to sustainability scientist. But she wishes she weren't such a rarity.
"There are so many times where I will make a point to a company or sustainability organization and they'll act like I'm a genius," Greer says, raising her eyebrows over her dark-rimmed glasses. "And I say to them, 'This is not special knowledge. This is what environmental professionals do.' That I'm a unique voice in this world is crazy. And it tells you a lot."
Greer earned her reputation by serving for more than 25 years as a senior scientist at the National Resources Defense Council, one of the country's largest environmental nonprofits. There she built a first-of-its-kind program aimed at decreasing the fashion industry's pollution, which was embraced by Kering (parent company of Gucci and Saint Laurent), Target, and Levi's. She used her scientific expertise to advise global fashion companies and industry coalitions alike about how best to reduce their environmental footprint.
"She is the leading voice and scientist in this space," says Maxine Bédat, founder of the New Standard Institute and author of Unraveled: The Life and Death of a Garment. Sean Cady, VP of global sustainability and responsibility at VF Corporation, which owns Supreme, Timberland, and the North Face, calls Greer "by far the smartest environmental advocate I've ever worked with." Stella McCartney once penned an admiring essay about her for Vanity Fair.
It's not that Greer's not proud of everything she has accomplished, she says from a chair positioned by a giant window overlooking the flowering trees in her backyard. But the point, she says, is that much of what she gets praised for shouldn't be considered revolutionary.
Linda Greer at her home.
Photo: Jared Soares/Jared Soares
On the day I visit her home in the suburbs of Washington, D.C., Greer is wearing a black cardigan over a patterned yellow top, both of which she has had for so long she's not totally sure where they came from, though she's pretty sure the top was a thrift-store find from two decades ago. The only time I see any hint of a brand logo is when her husband — also an environmental scientist — walks out of the back room to say hello in a button-up shirt and a quarter-zip Patagonia pullover.
When Vanity Fair set up a photo shoot with Annie Leibovitz to accompany a story about Greer in 2015, stylists called to ask who her favorite designers were. "I said, 'I work in a nonprofit, and I don't buy any designer clothes. I don't have a favorite designer, and I don't even know the name of who I could say to you,'" she recalls. She had been working with some of the biggest brands in the world — including a suite of luxury labels — for at least six years by that point.
Greer was raised in Fall River, Massachusetts, a city of fewer than 100,000 people perched on the banks of the Taunton River. Although it was once the "largest manufacturing center in the entire world for woven cotton fabric," she says, that beginning seems fateful in retrospect. When she was growing up, all it meant was that she lived in the kind of economically depressed shell of a place that's left behind after a major industry vacates the area in search of cheaper labor overseas.
But Greer was the daughter of a doctor, and experiencing economic and educational privilege against the backdrop of a struggling community impressed upon her the need to "try to do something good for the world and fix problems," she says.
She landed on environmental science as a way to do that. When she entered college at Tufts University in 1972, the field was relatively new — the U.S. Environmental Protection Agency had been founded only two years before. But she got so interested in pollution as a subject of scientific inquiry that she followed it through tedious chemistry classes, into graduate school at UNC Chapel Hill, and on to D.C., where she landed a role as a staff scientist at the Environmental Defense Fund. She began lobbying on Capitol Hill while pursuing a Ph.D. in environmental toxicology, which sometimes meant talking to congresspeople from a pay phone at her student union.
She left for the NRDC in 1990, where she and her colleagues devoted themselves to maturing the fledgling U.S. environmental regulatory system. It was a "giant" job to undertake, she says, especially while raising two kids, but it was an energizing time to be working on environmental policy. So much felt possible: She was close enough with both Republican and Democratic staffers that she got invited to their weddings, and bipartisan compromise seemed viable. ("It was such a different world," she says.)
At some point, though, pollution numbers in the U.S. started dropping and not because the environmental problems had been eliminated — they were just following manufacturing overseas. So Greer turned her attention to the international stage. That's how she wound up working in fashion: While looking at the information on one industrialized province in China, she saw that the apparel industry was second only to the chemical industry in its contributions to local water pollution. (She fears now that this finding, which was only ever meant to inform her own internal priorities at the NRDC, might somehow have led to the spread of the endlessly repeated but thoroughly debunked claim that fashion is the world's second-most-polluting industry. As a person who prizes accurate data, this idea pains her; the truth is we lack the data to accurately rank the industry, she says, and what we do know would result in wildly different rankings depending on whether we're tracking water contamination, greenhouse-gas emissions, or some other indicator.)
Pursuing pollution in the apparel sector ultimately led Greer on escapades to factories in China with the founder of Gap and a handful of other corporate figures. The culmination of all those factory visits and conversations with corporate actors and endless rounds of tea drinking with dyehouse owners was a program called Clean by Design, launched in 2009, which was geared toward reducing pollution from fashion manufacturers. It outlined ten deeply researched but simple-to-execute best practices that could help factories reduce their water and energy use — practices that included improving insulation and processing and reusing wastewater.
Greer wanted to start with the fashion industry, then move on to other polluting sectors. "I was thinking about this as just one sector, and I was gonna go off and do the next five sectors as soon as I figured this whole thing out," she says.
What she didn't anticipate was how hard it would be to get the fashion industry to change. Maybe it was that the sustainability people weren't working closely with anyone in the companies who had real decision-making power. Maybe "you need to insulate your valves" wasn't a sexy enough solution to grab fashion peoples' attention. But on the deepest level, she thinks, the problem was that fashion companies didn't think they really had an environmental problem — and with very little government oversight of the sector, there was no regulation to hold them accountable. Greer pitched Clean by Design to the Camera Nazionale della Moda Italiana, the body that represents and oversees the Italian fashion industry, and it "blew the whole thing off," she says. She pitched the program to a VP at Walmart, and he said with a smirk, "You ought to be in sales."
Despite these responses, Clean by Design garnered the co-signs of important players, from Burberry and Kering to Target and H&M, and reportedly resulted in savings of 3 million tons of water, 61,000 tons of coal, 400 tons of chemicals, and $14.7 million in operating costs by 2015.
"Linda created more change than she even realizes," says Cady, "from reducing the amount of water needed to produce a pair of jeans to driving the chemical industry to phase out toxic and hazardous chemicals."
And the fashion industry has come a long way in recent years toward at least acknowledging in word, if not always in deed, that its planetary impact is a problem. Still, this brings Greer back to her initial question: Why aren't there more scientists working on this? Her sense is that, underneath all the pineapple-leather capsule collections and Earth Day marketing and sustainability pledges, most fashion companies don't actually think they need the help of people like her, "because their environmental work isn't serious enough yet."
In 2018, after a 27-year tenure, Greer left the NRDC. Although Clean by Design never took off to the degree she had hoped, it lives on through adoption by another organization, the Apparel Impact Institute, which describes the program as "highly successful" and claims that companies that adopt its efficiency-boosting practices are paid back via lowered operating costs in under two years. These days, Greer is working with China's largest environmental nonprofit, the Institute of Environmental and Public Affairs, from her home in D.C.; she and her colleagues are still tracking fashion's footprint alongside that of other sectors. She sits in an office full of mementos from her worldwide travels, with a framed copy of the Vanity Fair article in the hallway and a poem by one of her old colleagues written on the back of two NRDC envelopes on the wall (a sample line reads, "[Linda] inspired designers to make clothes more sustainably / and she didn't take a single freebie").
When Greer talks about fashion's environmental woes today, as a fox wanders through her backyard and a spring drizzle waters the garden, she vacillates between being hopeful and frustrated, impatient and energetically optimistic. For those viewing her trajectory and the space she has cleared from the outside, though, it looks as if there's reason to believe the tide may be starting to turn.
"In the beginning, Linda seemed like a lone voice," says Frances Beinecke, former NRDC president and Greer's onetime boss. "And now, the idea of the fashion industry needing to become more sustainable has a pretty broad base. I was impressed that in Glasgow" — at the U.N. climate conference last year — "there was a lot of attention on fashion."
So are there enough people joining Greer at the intersection of environmental science and fashion to make a real difference? She has to hope so because right now business as usual is "melting the place down," she says. "I do feel a little cautiously optimistic that, as the pressure increases on the sector and on these companies, these organizations could step up."
Until then, the one and only Linda Greer is going to keep doing what she can.