Snowy Hydro hopes it will finally be able to resume boring on the main tunnel of its giant 2.0 pumped hydro project within six weeks after it gets new environment approvals from the New South Wales government.
Work on a 17km tunnel that will link a future underground power station to Tantangara dam in the Kosciuszko national park has been stalled since December after a tunnel boring machine – dubbed Florence – got stuck in unexpectedly soft rock just 70m in.
The chief executive of Snowy Hydro, Dennis Barnes, said it would apply for a modification of the environment approval for the work because the commonwealth-owned firm was "going for best practice, not just compliance".
Snowy would soon submit "a whole heap of data" that would go on public exhibition for a few weeks. Work was also proceeding to commission a slurry plant that would enable Florence to tunnel through soft rock, with boring to restart in four to six weeks if approval was given, Barnes said.
"We obviously have to wait to see what the modification proposes but there's already been enormous damage to the Kosciuszko national park with the works to date," Ted Woodley, a spokesperson for the National Parks Association, said. "We wouldn't want to see any further damage to the park."
Work on the tunnel may then take another three years to complete provided the 211-metre long machine can average 15m a day.
Barnes, a former executive at Origin Energy, took over as chief executive in February as Snowy battled mounting costs and delays at the 2.0 project.
Announced in 2017 by the then prime minister, Malcolm Turnbull, the plan aimed for 2,000 megawatts of storage capacity by pumping and releasing water between two of Snowy's dams. Initial costs were put at $2bn and have since more than tripled, while the 2025 completion date has been pushed back to the year 2029-30.
Barnes will prepare an updated cost estimate for Snowy 2.0 before the end of 2023. Those estimates may include an option to expedite drilling on the head-race tunnel by starting to bore from the other end. "Then the rate of progression of Florence is less important, but obviously there's a cost associated with that," he said.
Such a change, though, may require new approvals, such as where the spoil from the other end – drilled from the Marica surge tunnel – would go, Woodley said.
He also said the NSW planning department was yet to release its report on the damage caused by the sinkhole that opened up to the surface in front of Florence. That report, which followed other issues with Snowy's approvals, should identify how Snowy would rectify the impact and ensure there would not be repeats.
Separately, Barnes also confirmed that Orica's explosive technicians had failed to locate a missing detonator and booster that were unaccounted for two weeks ago.
The loss of the items prompted several days of bag searches by staff and an investigation by WorkSafe NSW.
"It's quite probable we'll never find them and it's quite possible that they were double-packed," he said, adding that the area had since been blasted successfully.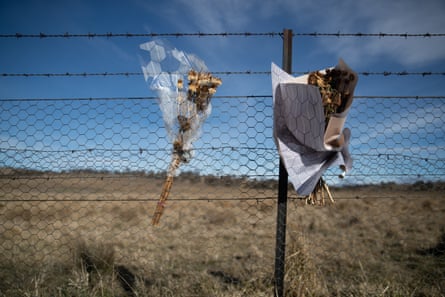 Inquiries, meanwhile, are continuing into the death of Alan Machon, a contractor who died in April when his truck left the highway between Cooma and another worksite, rolled and caught fire.
"Police are still conducting their investigation so we don't have an outcome," said Barnes, who paid tribute to Machon in Snowy's April update for the project.
"We have had our own checks of the vehicle and all of our trucking fleet, and had a third party do the mechanical checks," he said. They have "all passed the checks".
The Queanbeyan coroner's court will hold an inquest into Machon's death, with a date still to be set.