Colors play a highly important role in influencing the way we feel, and so when it comes to home decor, it's important to think carefully about the colors you want to adopt. 
In the kitchen, a social and highly frequented room in the home, you should think about using colors that you are personally drawn to as well as colors that feel cozy to encourage a relaxing atmosphere.
Historically, a lot of the focus on cozy decor has been in the living room, but modern-day design sees kitchens as a room that we spend just as much time in (if not more) so there are so many reasons to capture an equally cozy and inviting feel in this room.
5 colors to make the kitchen feel cozy
We spoke to the design experts and color specialists to understand what are the best kitchen color ideas to help create a cozy space. From soft neutrals to more daring hues, there are many options to suit a wide range of interior styles.
While these colors are guaranteed to look great all year round, it's the perfect time of year to consider refreshing the kitchen with cozier paint ideas as the evenings draw in and we spend more time relaxing in the home. 
1. Aubergine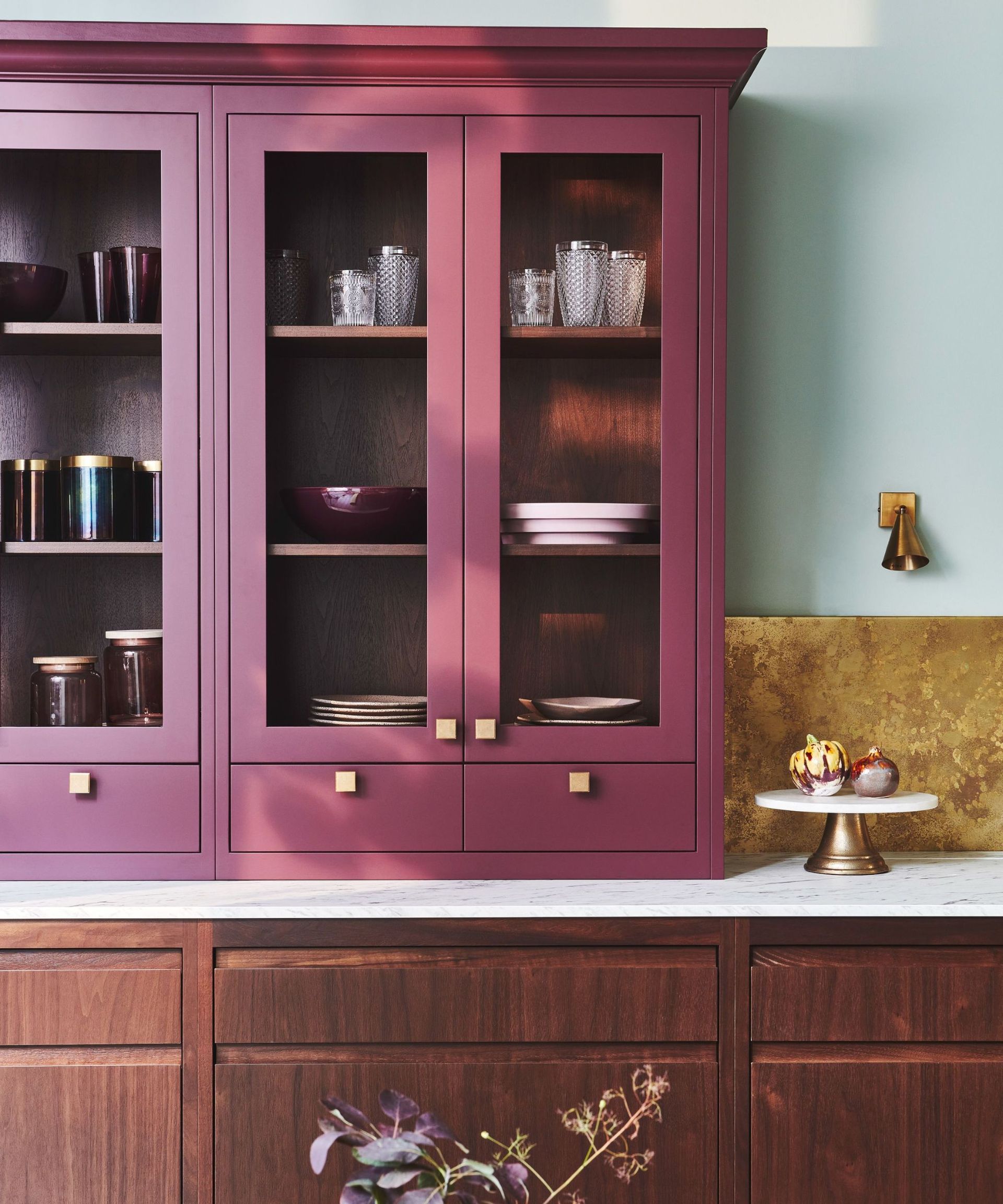 Perhaps the coziest of all colors are rich and warm autumnal hues. Tapping into aubergine autumn, one of this season's biggest kitchen trends, these sophisticated eggplant-inspired colors are instantly warming and are perfect for capturing a cozy feel in the kitchen. 
'Darker, deeper shades such as navy blue, forest green, and aubergine offer the perfect aesthetic for a warm, cozy kitchen,' says Elizabeth Sherwin, Creative Director at Naked Kitchens. 'The rich sultriness of these colors ooze drama and sophistication, whilst creating a warm and inviting space.'
When it comes to styling the rest of the kitchen around rich aubergine hues, Sherwin suggests: 'Finish the look with an aged splashback which adds an element of texture and wooden accents to create the ultimate cozy escape.'  
Elizabeth Sherwin is the creative director at Naked Kitchens, a bespoke kitchen company with a focus on contemporary and functional design. 
2. Neutrals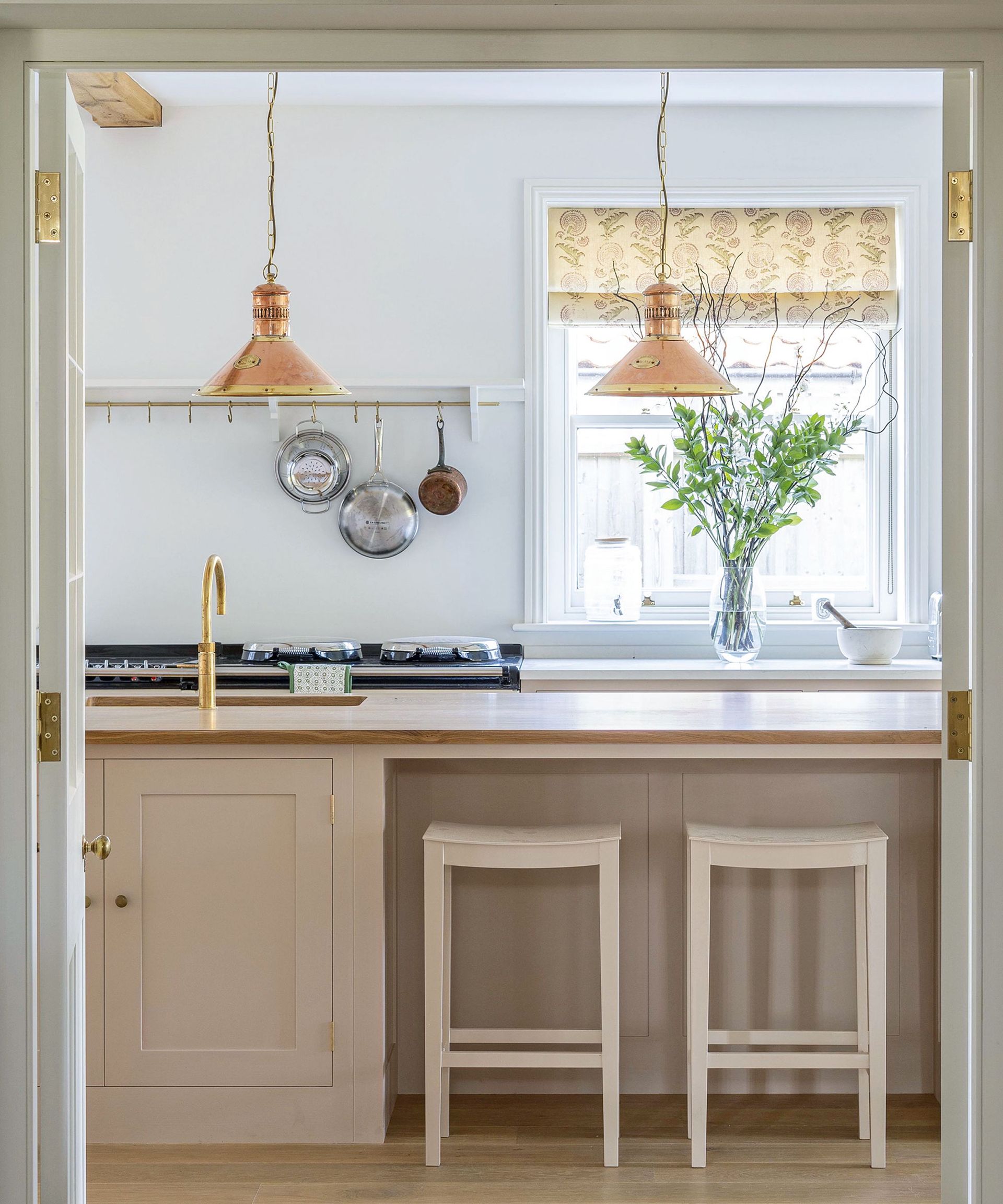 Decorating with neutrals is always a timeless choice. If you prefer to keep the color scheme in your kitchen pared-back, then neutrals are the way to go, and experts say that they are known for creating a cozy environment. 
'Light, warm neutrals in shades of beige, cream, and greige create a cozy, comfortable environment that is perfect for the kitchen,' says color expert at Behr Paints Erika Woelfel.
Ashley McCollum, color expert at PPG's Glidden also recommends opting for neutral hues in the kitchen, explaining: 'Dust Bunny is a soft, warm, dusty greige with an almond undertone to add a cozier feel. It is a perfect paint color for open spaces.'
If you do choose a neutral color scheme for your kitchen, you can opt to paint the cabinets in the same shade for a fully cohesive look. 
Ashley McCollum is a Marketing Manager and color expert for PPG's Architectural Coatings business in the U.S. and Canada. Prior to joining PPG in 2017, Ashley's career was heavily focused on color and visual merchandising for retail environments. Ashley earned her MBA in Marketing/Management from Slippery Rock University of Pennsylvania.
3. Yellow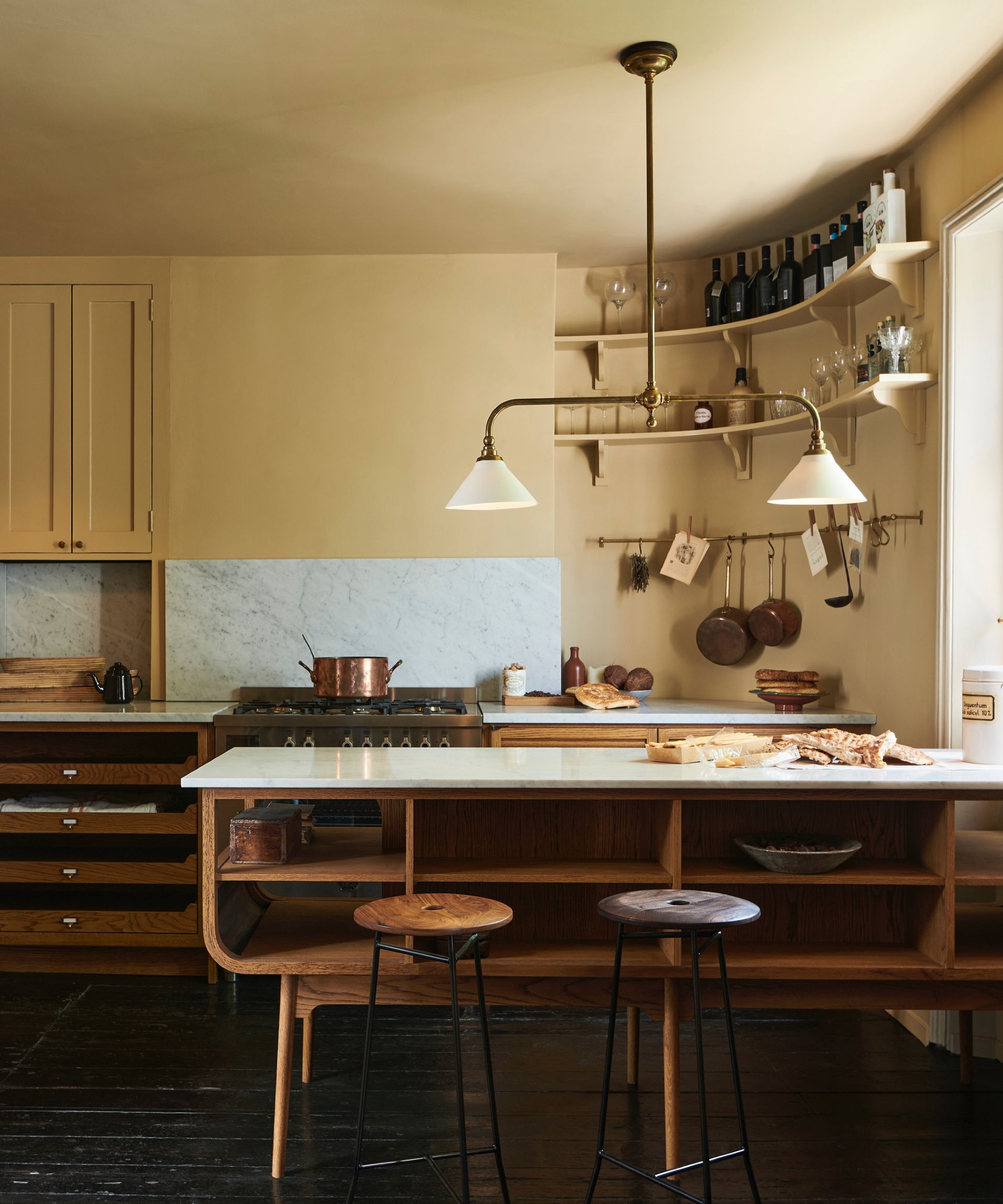 You may not associate decorating with yellow as a cozy color, but the right shade of yellow can indeed increase the coziness of a kitchen due to its incredible levels of warmth. While vivid and highly saturated yellows will likely create an energizing and uplifting feel in the kitchen, opting for more muted yellow hues with golden tones is guaranteed to boost the levels of coziness.
'Brass Mesh is a bright, cheerful yellow that can instantly add a sense of warmth and happiness to a kitchen,' suggests McCollum. 'Often the hub of the home, the rendezvous point at breakfast time, the social gathering in the evening – consider positive colors in the kitchen – especially yellow, the color of creativity.' adds color consultant at Farrow & Ball Patrick O'Donnell. 
O'Donnell provides his take on styling yellow in the kitchen, suggesting: 'Paint kitchen units in India Yellow and dilute the intensity of the cabinetry with a unifying white applied to everything else.'
Patrick O'Donnell is Farrow & Ball's color consultant & brand ambassador and has been with the brand since 2012. Patrick works with designers in the UK and North America, helping to bring their projects alive with the iconic, F&B color palette.
4. Dark green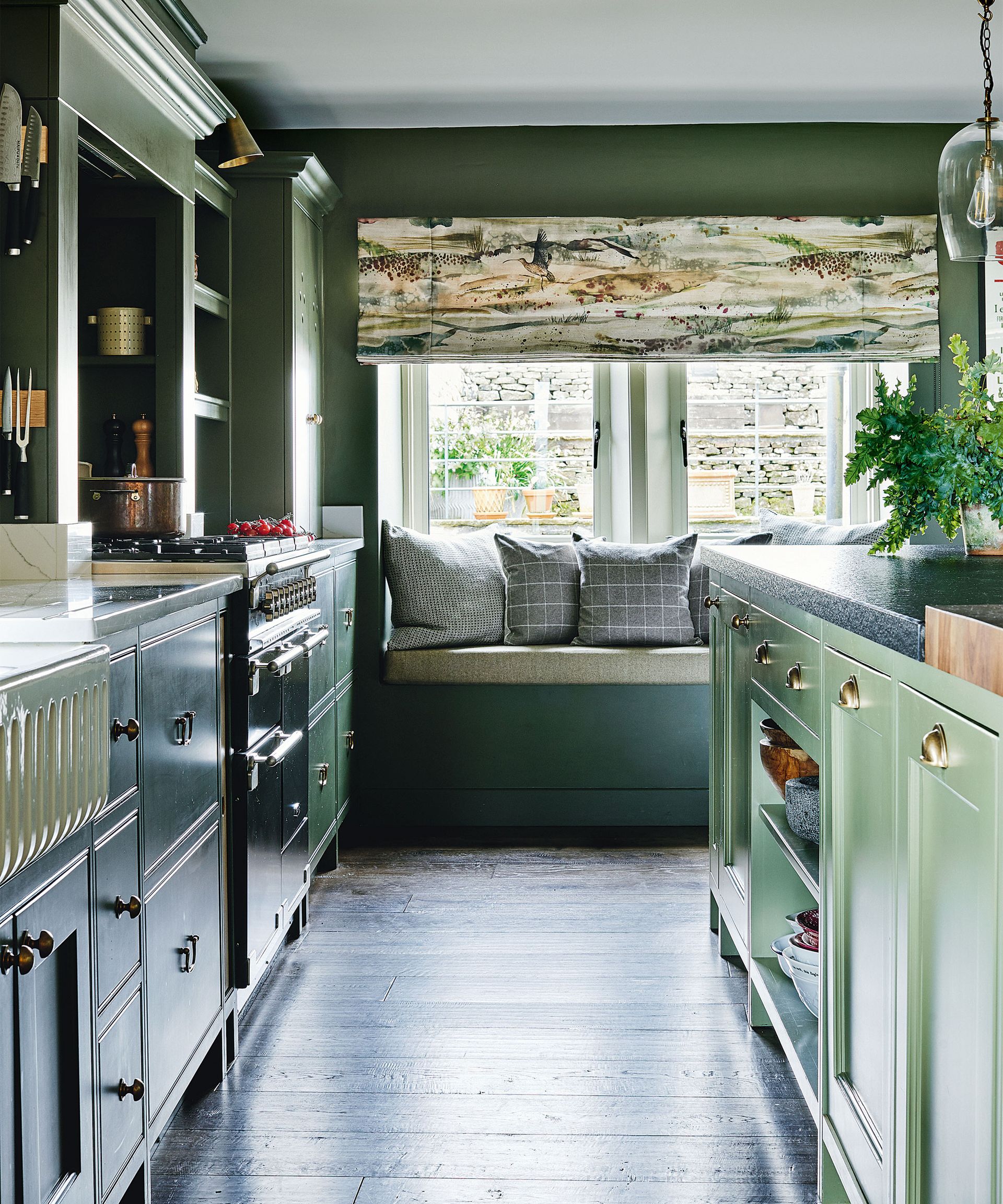 Opting for a dark green kitchen is another way to create a cozy feel and cocooning feel. 'Earthy green tones, like olive, connect your kitchen to nature and promote a sense of calm and well-being,' says Principal at Archute Jacky Chou. 
'These colors are reminiscent of lush gardens and can be used on walls, kitchen accessories, or even as cabinet colors. Enhance the earthy atmosphere by using potted herbs or small indoor plants in your kitchen. Their fresh, natural greenery will complement the color scheme beautifully.' Chou suggests. 
5. Terracotta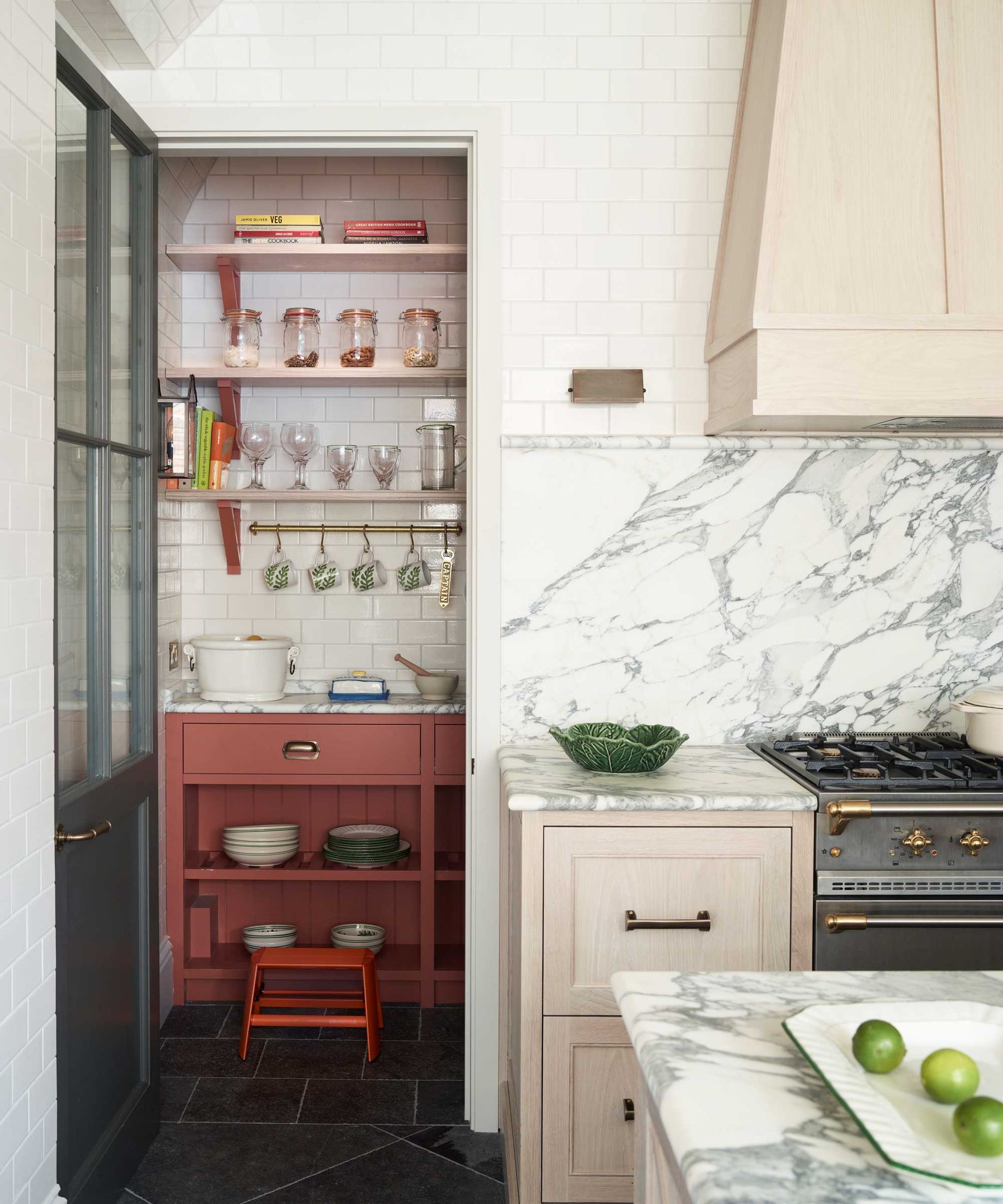 Lastly, terracotta hues will create a cozy feeling in the kitchen, according to Chou: 'Terracotta, a warm reddish-brown, evokes a sense of warmth and homeliness.' This is a good option if you want to keep your kitchen colors fairly subtle and understated but with more richness than classic neutrals. 
There are lots of ways you can style terracotta decor in the kitchen, as Chou explains: 'You can introduce terracotta through tiles, dishware, or even as an accent wall color. Balance the boldness of terracotta with muted colors like soft gray or cream. These complementary shades create a welcoming contrast and prevent the kitchen from feeling too intense.'
Principal and Director at Archute
Principal and Director at Archute
Jacky Chou is the principal and director at Archute, an editorial magazine about architecture, home and garden. They have been referenced by The New York Times, Bustle, House & Home, Bloomberg, and Angi. Jacky also his own an online interior design company as well called Laurel & Wolf.
Q&As
What is the best paint finish in the kitchen?
Knowing which paint finish is best for the kitchen can be a difficult decision. With so many different finishes available, it's important to opt for the most practical choice to ensure your new kitchen color looks great for years to come. We've explained which type of paint is best for kitchens, including satin, gloss, and matte. 
---
Elevating the paint colors in your kitchen is guaranteed to increase the cozy feeling of the whole room. But if you're not looking to make quite such a big change, we have lots of other cozy kitchen ideas to help you on your way, including smaller decor swicthes.